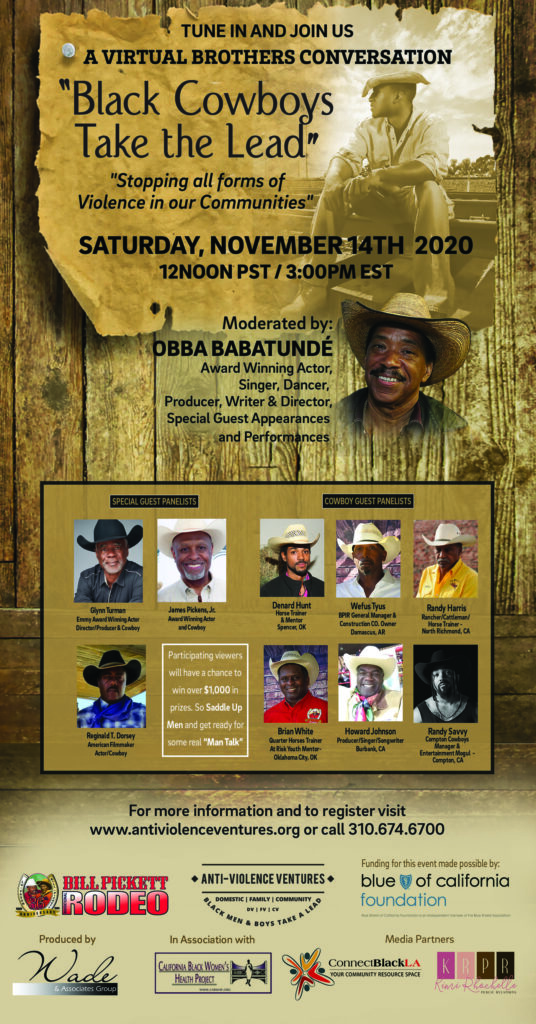 Guest Panelist: Emmy Award Winner Glynn Turman, Award Winning Actor James Pickens Jr. and American Filmmaker & Actor Reginald T. Dorsey
On Saturday, November 14th at 12 PST, the Anti-Violence Ventures (AVV) will launch their first national conversation, "Black Cowboys Take the Lead: A Virtual Conversation With Black Cowboys." The event will be hosted by award winning actor, Obba Babatundé and feature actors Glynn Turman, Reginald T. Dorsey and James Pickens, Jr as guest panelists, all of whom happen to be real Cowboys.
AVV's "Black Men & Boys Take a Lead" is an innovative anti-violence social intervention. Anti-Violence Ventures is a prototype project designed as part of the Blue Shield of CA Foundation's Reimagine Lab; an initiative focused on preventing cycles of violence now and into the future. Anti-Violence Ventures (AVV) centers around the intrinsic link between Black males and females in the three types of violence that are prevalent among Black couples, families, and in Black neighborhoods – domestic, family, and community violence.
"As a man who has witnessed the devastating effects of violence be it physical, mental or systemic, I believe strongly that we must begin to have a conversation to identify it in it's different forms and as a collective come up with ideas and possible actions to fight against the continuance of violence." – Obba Babatundé
In 2018, Blue Shield of California Foundation launched Reimagine Lab, a design lab intended to bring together leaders from diverse backgrounds to learn, reflect, and co-create promising ideas and solutions to break the multi-generational cycle of domestic violence. California Black Women's Health Project (CABWHP) CEO, Sonya Young Aadam was selected as one of 16 fellows in the Reimagine Lab who came together around a vision for a better future and a desire to help make it a reality. AVV was developed and initially prototyped in late 2018. An updated scope includes CBO's, Black male owned or led businesses, organizations and agencies to support embedding an aspect of partner, family and community violence prevention into some aspect of their general business, activities or programming.
"It is assumed that Black men and boys are not always comfortable talking about personal and community violence or prevention. We believe that with investments, incentives, support and encouragement, Black men and boys will engage in transformative dialogue and action around violence and violence prevention!" states AVV Founder and CEO of the California Black Women's Health Project, Sonya Young Aadam
General DATA on Black Males:
20 million Black males in US
26% live in poverty
6x higher homicide rate
745,000 incarcerated
AVV 2018-19 surveys reveal:
33% experience 10+ family violence incidents;
60% witnessed 10+ community violence incidents
The AVV approach includes the co-laboring of Black males and females in naming the challenges and exploring solutions to the violence between and among them.
"We move beyond traditional narratives of "women-centered domestic/sexual violence", male-centered street violence", and the relative silence on family violence – "what happens behind closed doors stays behind closed doors". We inspire new ways of thinking that bridge the chasms between the forms of violence that are prevalent in Black relationships, homes, and neighborhoods – domestic violence, family violence, and street violence," states Aadam.
ANTI-VIOLENCE VENTURES will support the Black community in identifying the who, what, why, and how violence prevention is possible for us and by us.
In 2020, CABWHP teamed up with Margo Wade LaDrew, President of Wade & Associates Group– a boutique agency specializing in local, regional and national Special Events, Project Management, Marketing and Community Outreach.
"We are so pleased to partner with CABWHP to develop innovative events to reach men of all walks of life and to meet them where they are. Our goal is to amplify the voices of Black men and boys and work to expand the project reach nationally," says Mrs. LaDrew.
Margo is an expert when it comes to working and reaching Black Men as she was instrumental in both the development and launch of the first Black Barbershop Health Outreach Program. Her company managed the program and executed a 26 City Tour. In addition she represents and serves as the National Development Director for the Bill Pickett Invitational Rodeo-The only Nationally recognized Black Rodeo Tour in the world for the past 26 years reaching thousands of Black men and boys across the U.S and abroad.
The "Black Men & Boys Take a Lead" Project will host podcasts, Virtual Events and Live Man Cave Conversations." The focus is men talking, listening, and asking questions about various aspects of all forms of violence within the Black communities. While men can listen and ask questions as well as have some connection with other men expressing their thoughts, and their feelings; it is the live events where men can commune and fellowship around the same cause: Black men dealing with violence and exploring ways to prevent it!
There will be several Covid -19 Social Distancing live events that will bring Black Barbers as well as Fraternities and other men organizations together to discuss their thoughts about how Black men deal violence and solutions though out Southern California.
AVV "Black Men & Boys Take a Lead" programs and events are produced by Wade & Associates Group in partnership with the California Black Women Health Project (CBWHP). Media Partners include KRPR Media, LLC and Connect Black LA (CBLA).
For more information on the project, get involved and/or to check out other upcoming events, please visit: www.antiviolencevenures.org
For Media Inquiries/Features:  KimiRhochelle of KRPR Media, llc / [email protected]
TO REGISTER FOR FREE: https://us02web.zoom.us/webinar/register/WN_voCy1vtPT_22kM8xO4FkTQ