Leimert Park Jazz Festival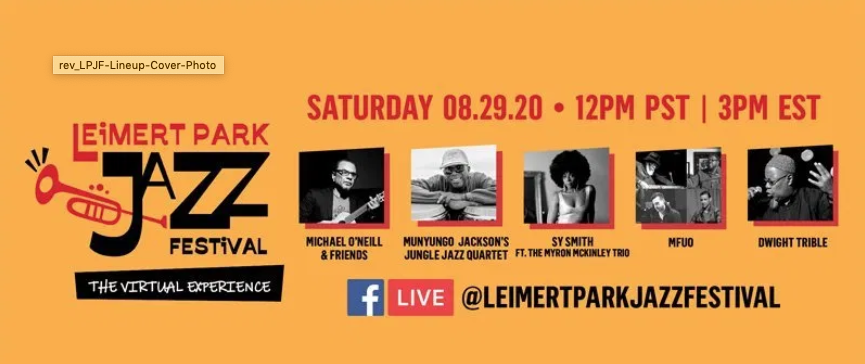 Date

August 29, 2020

Time

12:00 pm - 1:30 am
The Leimert Park Jazz Festival is one of LA's premier summertime events, serving our culturally diverse and family-friendly community. Our mission is to celebrate jazz, community, and the cultural heritage of the historic South Los Angeles neighborhood of Leimert Park.
Come enjoy summer vibes and great music from the comforts of home as the Leimert Park Jazz Festival goes virtual this year. We have an exciting artist lineup: Munyungo Jackson's Jungle Jazz Quartet; Michael O'Neill & Friends; Sy Smith ft. The Myron McKinley Trio; Mufo; and Dwight Trible.
This year, the Leimert Park Jazz Festival has partnered with some of the best local restaurants to bring you a 20% discount on orders placed on the day of the festival! We'll supply the entertainment, while you enjoy lunch from a local eatery. Check out the participating restaurants and learn more about the promotion HERE.
For decades, Leimert Park has served as the cultural heartbeat of Black Los Angeles. With a legacy of jazz, poetry, art, and African American culture, it is the home of legendary institutions and others poised to become legendary, such as The World Stage, The Vision Theatre, Barbara Morrison Center for the Performing Arts, Fernando Pullum Community Arts Center, California Jazz and Blues Museum, and Art + Practice. The Leimert Park Jazz Festival will continue paying homage to this vibrant neighborhood's historic past and bright future.
Join us Saturday, August 29th at 12pm on Facebook Live @LeimertParkJazzFestival for the summer event that COVID can't stop!
Visit www.leimertparkjazzfestival.com for all the details and to RSVP.